Hi, I've an autocomplete that is populated from an Ajax request. Until today it worked well, but it doesn't work if there is a similar item in the list. For example I want to select the item "Vacca Giuseppe" but if I click on it, the autocomplete set the similar item "Vacca Giuseppe Ignazio".
If I change "Vacca Giuseppe" in "Vacca Giuseppe2" the autocomplete works well.
I don't find the mistake. Can you help me? thank you in advance.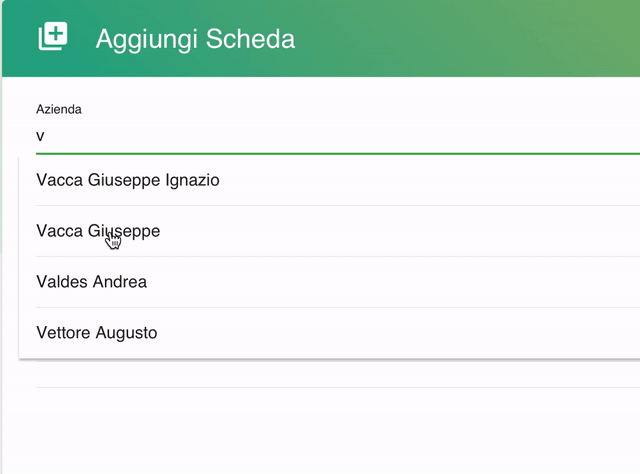 This is the html
                                     <li>
										<div class="item-content item-input">
						                    <div class="item-inner">
						                        <div class="item-title item-label">Azienda</div>
						                        <div class="item-input-wrap">
						                          <input type="text" placeholder="es: Cagliari" id="azienda" name="nome_azienda">
						                        </div>
						                    </div>
						                 </div>
					                </li>

This is the function
utils.loadAziende = () =>{
  app.preloader.show(); 
  app.request({ 
            url: url,
            dataType: 'json',
            data: {keys: key},
            success: function (data) {
                      const aziende = data.data;
                      console.log('aziende  ' + JSON.stringify(aziende));
                      var loadSelect = app.autocomplete.create({
                      inputEl: '#azienda',
                      openIn: 'dropdown',
                      preloader: true, //enable preloader
                      valueProperty: 'nome_azienda', //object's "value" property name
                      textProperty: 'nome_azienda', //object's "text" property name
                      limit: 5,
                      typeahead: true,
                      dropdownPlaceholderText: 'Scrivi...',
                      source: function (query, render) {
                        var autocomplete = this;
                        var results = [];
                        if (query.length === 0) {
                          render(results);
                          return;
                        }
                        // Show Preloader
                        autocomplete.preloaderShow();
                     
                  
                        // Find matched items
                        for (var i = 0; i < aziende.length; i++) { 
                          console.log(aziende[i]);
                          if (aziende[i].nome_azienda && aziende[i].nome_azienda.toLowerCase().indexOf(query.toLowerCase()) === 0) results.push(aziende[i]);
                        }
                        // Hide Preoloader
                        autocomplete.preloaderHide();
                        // Render items by passing array with result items
                        render(results);
                        },
                        on: {
                              change: function (value) {  
                    
                                var id_azienda =  document.getElementById('id_azienda');
                                if (typeof(id_azienda) != 'undefined' && id_azienda != null)
                                {
                                  	document.getElementById("id_azienda").value = value[0].id;
                                  	document.getElementById("colture").value = value[0].colture;
                                            
                                }

                            	var id =  document.getElementById('id_azienda2');
                                if (typeof(id) != 'undefined' && id != null)
                                {
                                  	document.getElementById("id_azienda2").value = value[0].id;
                                    document.getElementById("codice").value = value[0].codice_azienda;
                                    document.getElementById("ato").value = value[0].ato;
                                    document.getElementById("sut").value = value[0].sut;
                                    document.getElementById("localita").value = value[0].localita;
                                    document.getElementById("comune").value = value[0].nome_comune;
                                    document.getElementById("provincia").value = value[0].provincia_comune;
                                    document.getElementById("cap").value = value[0].cap_comune;
                                    document.getElementById("indirizzo_colturale").value = value[0].indirizzo_colturale;
                                    document.getElementById("telefono_azienda").value = value[0].telefono_azienda;
                                    document.getElementById("email_azienda").value = value[0].email_azienda;

                                    var nome_azienda = document.getElementById("nome_azienda");
                                    if(!utils.isEmpty(nome_azienda)) nome_azienda.value = value[0].nome_azienda;


                                }                             
                              
                              }//change
                            }//on
                        });//autocomplete-create

                        app.preloader.hide();
            },//success
            error: function(xhr, status){
        		switch(status)
				{      
                    case 400: app.preloader.hide(); app.dialog.alert('[400] Spiacenti si è verificato un errore'); break;
				}
        }//error
});//request
}//loadAziende

I call the function here:
  {
				name: 'anagrafica-menu',
				path: 'menu/',
				url: './pages/anagrafica/menu-add.html',
				on: {
						pageInit: function(e,page){ 
									page.router.clearPreviousHistory();		
									utils.loadAziende();
									anagrafica.handleOptionsCompanies();	
																	
								}
									
					},

			},