Hi guys,
I am new to APP Development and I am currently trying to build my first Framework7 PWA.
In my case I would like to display data from my DB in the PWA frontend by using an API request.
I don't know if this is the best way to do it, but it was the only one, i found so far to realise this.
My problem is, it doesn't show any data from database in my frontend. I tried to load the Data via Framework7.request.json. This works already. Because i can display the data via browser console. Afterwards I tried to store this data in a variable, so I can access it via a javascript call. Is this the best way to do this? I don't know if there is a much better way to do this. Through research I found this way: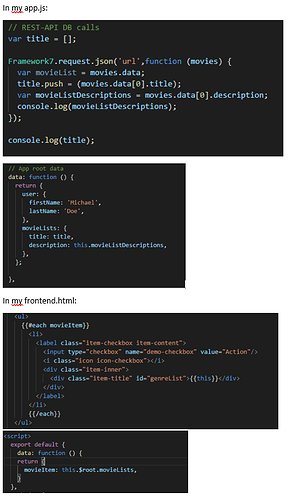 Is this the best way to do this?
I am not sure, if it's possible to store var data in root data object. Is it?
Thanks for all your help!