Hi, i have created a brend new F7 project, with the UI, to reproduce the bug.
New f7 project, core js, with vite.
In the dynamic-route.f7 i have a sortable table. When sorting is done, i do something (now i print a console). If i go back to the home and i go to dynamic-route again, the print is called twice. I i repeat, the print is printed eache time i go back and i load the page.
Attached the simple code i have added to the dynamic-route.f7, the only code i have added. (i can embedd only one code image)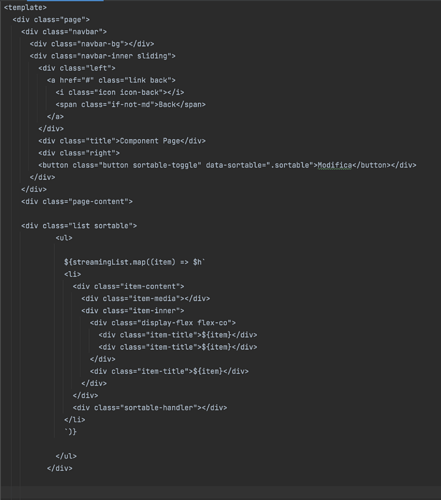 var streamingList = ['lista1', 'lista2', 'lista3'];
$f7.on('sortableSort', function (listEl, indexes) {
arraymove(streamingList, indexes.from, indexes.to);
});
$f7.on('sortableDisable', function (listEl, indexes) {
  console.log("sortable disable");


  saveData();
});

function arraymove(arr, fromIndex, toIndex) {
      var element = arr[fromIndex];
      arr.splice(fromIndex, 1);
      arr.splice(toIndex, 0, element);
    }

function saveData() {
console.log('save corse');
console.log(streamingList);
}