I have to make two requests. With the first one I get the data "nom_largo" and "cod_alfabeta".
With this code I make the second request.
The first request works perfect, I receive the data and generate a virtual list. (view image)
The second request is made but does not show the results.
What I do is obtain the data of the branches where the product is located. And then with a FOR, remove the branches that have no stock, and save everything in a variable.
And finally insert the variable, which contains a list, into the virtual list of the first request.
I want to show the branches with and accordion-list. So to show this I use accordionBeforeOpen but it shows me the accordion-list when i close the accordion, instead on open.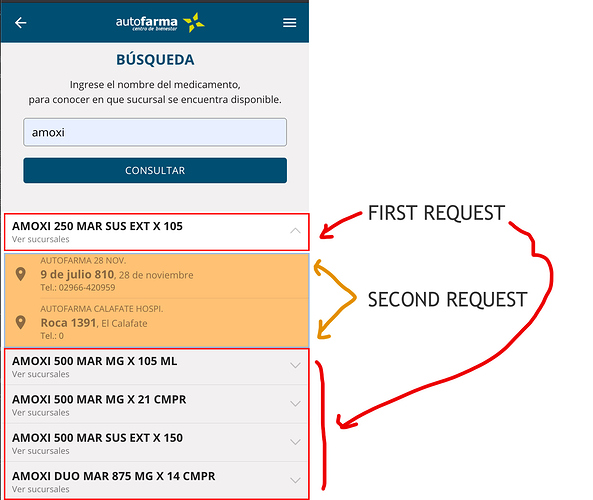 CODE /////////////////////////////////
FIRST REQUEST
//BUSQUEDA DE MEDICAMENTOS

    $$('.busqueda-boton').on('click', function () {
        var datosbusqueda = app.form.convertToData('#busqueda-form');
        var busqueda = datosbusqueda.medicamento;
        var busquedaUpper = busqueda.toUpperCase();

        var lista_medicamentos = [];
        var i = 0;

        app.request({
            url: 'http://xxxxxxxx/webapps/get_producto.php?NOM_LARGO=%' + busquedaUpper + '%',
            method: 'POST',
            dataType: 'XML',
            crossDomain: true,
            //data: 			busqueda, 
            success: function (data, textStatus) {
                var doc = $$(new DOMParser().parseFromString(data, 'text/html'));

                doc.find('producto').forEach(function (itm) {
                    // console.log($$(itm).find('nom_largo').text());
                    //console.log($$(itm).find('cod_alfabeta').text());
                    var nombre_med = $$(itm).find('nom_largo').text();
                    var codigo_med = $$(itm).find('cod_alfabeta').text();
                    var s = {};
                    s.nombre = nombre_med;
                    s.codigo = codigo_med;
                    lista_medicamentos.push(s);
                    i++;
                });

                //console.log(lista_medicamentos);

                var virtualList = app.virtualList.create({
                    // List Element
                    el: '.virtual-list-busqueda',
                    // Pass array with items
                    items: lista_medicamentos,
                    emptyTemplate: 'No se encontraron resultados.',
                    // List item Template7 template
                    itemTemplate: '<li class="accordion-item btn-sucursales" id="medicamento{{codigo}}" data-codigo="{{codigo}}">' +
                        '<a href="#" class="item-link btn-sucursales-a item-content no-padding-left" data-codigo="{{codigo}}">' +
                        '<div class="item-inner padding-left">' +
                        '<div class="item-title">' +
                        '<span class="busqueda-resultados-titulo"><b>{{nombre}}</b></span>' +
                        '<div class="item-footer">Ver sucursales</div>' +
                        '</div>' +
                        '</div>' +
                        '</a>' +
                        '<div class="accordion-item-content" id="medic_suc{{codigo}}">' +
                        '<div class="list">' +
                        '<ul class="bg-color-transparent text-color-gray">' + **//Here insert the second rerquest**
                        '</ul>' +
                        ' </div>' +
                        '</div>' +
                        '</li>',

                    // Item height
                    //height: app.theme === 'ios' ? 63 : (app.theme === 'md' ? 73 : 46),
                });

                virtualList.clearCache();

            },
            error: function (xhr, textStatus, errorThrown) {},
        });
    });

    //FIN BUSQUEDA MEDICAMENTOS

SECOND REQUEST
  // búsqueda/search del código sucursales
  app.on('accordionBeforeOpen', function (el) {

        var cod_alfabeta = $$(el).attr('data-codigo');
        console.log(cod_alfabeta);

        var lista_sucursales = [];

          app.request({
            url: 'http://xxxxxxxxxx/webapps/get_stock.php?cod_alfabeta=' + cod_alfabeta,
            method: 'POST',
            dataType: 'XML',
            crossDomain: true,
            success: function (data, textStatus) {

                var docsuc = $$(new DOMParser().parseFromString(data, 'text/html'));

                docsuc.find('sucursal').forEach(function (itmsuc) {
                    var nombre_suc = $$(itmsuc).find('nom_sucursal').text();
                    var localidad_suc = $$(itmsuc).find('des_localidad').text();
                    var telefono_suc = $$(itmsuc).find('des_tel').text();
                    var direccion_suc = $$(itmsuc).find('des_direccion').text();
                    var stock_suc = $$(itmsuc).find('can_stk').text();
                    var suc = {};
                    suc.sucursal = nombre_suc;
                    suc.localidad = localidad_suc;
                    suc.telefono = telefono_suc;
                    suc.direccion = direccion_suc;
                    suc.stock = stock_suc;
                    lista_sucursales.push(suc);
                });
                
                console.log(lista_sucursales);

                //lista/list sucursales 
                var todo = "";
                var t;
                for (t = 0; t < lista_sucursales.length; t++) {
                    console.log(lista_sucursales.length);
                    if (lista_sucursales[t].stock > 0) {
                        console.log(lista_sucursales[t].stock);
                        var sucursal = '<li>' +
                        '<div class="item-content">' +
                        '<div class="item-media"><i class="material-icons">place</i></div>' +
                        '<div class="item-inner no-margin-left">' +
                        '<div class="item-title">' +
                        '<div class="item-header">' + lista_sucursales[t].sucursal + '</div>' +
                        '<b>' + lista_sucursales[t].direccion + '</b><small>, ' + lista_sucursales[t].localidad + '</small>' +
                        '<div class="item-footer">Tel.: ' + lista_sucursales[t].telefono + '</div>' +
                        '</div>' +
                        '</div>' +
                        '</div>' +
                        '</li>';
                        var todo = todo.concat(sucursal);
                        console.log(t);
                    } else {
                        console.log(lista_sucursales[t].stock);
                        console.log(t);
                    };
                };
                //fin/end FOR
                //console.log(todo);
                $$(todo).appendTo( $$('#medic_suc' + codigo_med + ' .list ul') );                      
            },
                error: function (xhr, textStatus, errorThrown) {    
            },
        });
      
    });