Hi Guys… I'm having a major "security" problem with android keyboard.
I use a series of swipers to handle user onboarding and I only allow change the swiper sheets when user hits a certain button.
The problem is when I'm on android, there's a keyboard button wich when is pressed, it change the sheets forward (something like a swipeNext() triggered by that key ).
I tried to create a function that does an e.preventDefault when some key is pressed (and for debug I "alert" onscreen wich key is pressed (so I could figure out which code this key has). Funny thing is the alert show every other key code, but this strange key there's no code – it doesn't even fire the alert function, that is triggered onKeyDown!
How could I disable this? I already read all docs about ir and couldn't figure it out…
Here's a screen (showing the alert from a random key that I pressed – The circle is on the key I want to disable the swiping).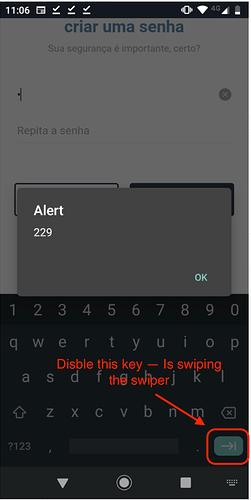 Any thoughts?